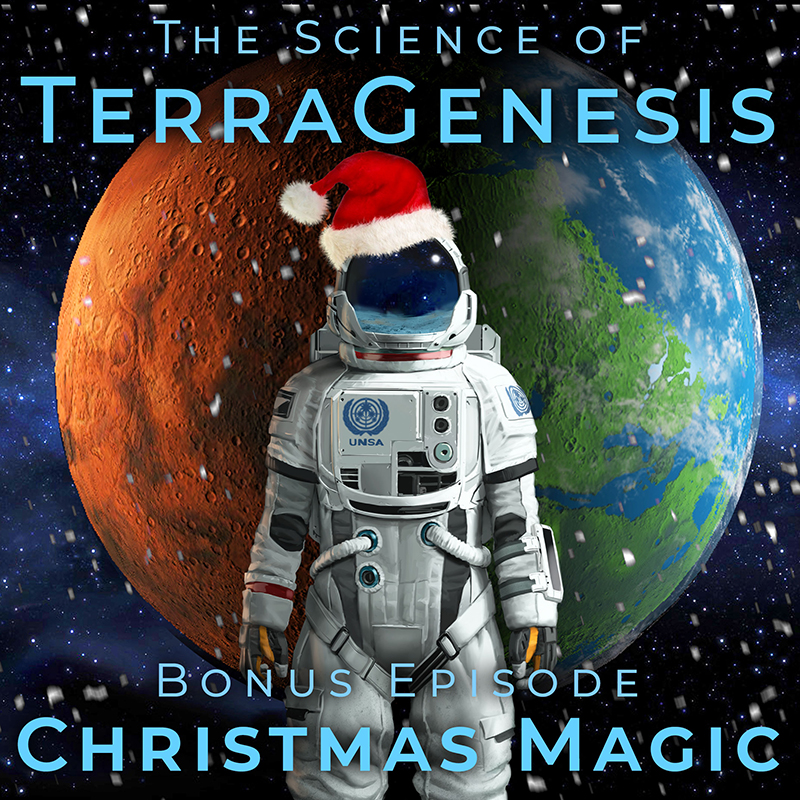 LISTEN TO THE PODCAST HERE:
Hey, folks. Today I'd like to share a post I made on the TerraGenesis Facebook page in December of 2016, just a few months after TerraGenesis was first released. I was sitting in a cabin on the North Island of New Zealand with my wife and my mom, enjoying the disconcertingly warm weather and dreaming of where this journey might take us in the years to come. Some of our oldest players may have read this post already on the Facebook page back in the day, but given the fact that the community was much smaller back then, and the fact that mathematics NEVER goes out of style, I thought I'd share it again. Whether or not you celebrate Christmas or believe in Santa, I hope you're having a wonderful day, and as usual, happy terraforming!
So, I don't think it's going to come as a great galloping shock to hear that the guy who single-handedly designed and created a science-based planet simulator app is a bit of a math nerd. But what you may not know is that I also happen to be a HUGE Christmas nerd. I look forward to it all year, and it holds a very special place in my heart.
So, in honor of one of my favorite days of the year, let's do a bit of holiday number crunching!
Finding Santa
In December of 1990, SPY Magazine published an article written by Bruce Handy and Joel Potischman called "Santa Math." In it they calculated just how fast Santa Claus would have to travel to visit every child's home on Earth in a single day. Their conclusion was a staggering 650 miles per second. In TerraGenesis we use metric, so that's 1,046 kilometers per second. 
But of course, this is TerraGenesis, and we don't care about boring-old Earth. We want to hear about Mars.
The Math
On average Earth and Mars are about 225 million km apart, so at that rate Santa would need to fly at his top Christmas-speed for 215,105 seconds (or almost 60 hours) just to get to Mars. Venus would be 45 hours away, the Moon would be just 6 minutes away, and the moons of Uranus would be just over a month of hard flying for Rudolph and the gang.
Of course, a Martian day isn't the same length as an Earth day. It's close, but it's about 40 minutes longer, or about 3% longer than an Earth day. That means Santa has more time to work once he gets there, albeit not much: instead of going 1,046 km/s he'd only have to go 1,015 km/s. I suppose every little bit helps.
Except, Mars is also a lot smaller than Earth: surface area 145 million square kilometers, as opposed to Earth's 510 million. That's only 28.4% the amount of ground to cover, meaning that between the smaller surface and the longer day, Santa would only have to go about 27.5% as fast to get the job done on Mars (about 288 km/s), for a similar population.
Santa Math
But then, why assume a similar population? The original "Santa Math" article assumed 91.8 million households eligible for a visit from Santa. In 2015 the average American household included 2.54 people. What's the population of your Mars in TerraGenesis, divided into households of 2-3 people, relative to that number on Earth? Use this formula to figure it out:
[PopulationRatio] = ( [PlanetPopulation] / 2.54 ) / 92,000,000
Then you can figure out how fast Santa would have to go on your particular Mars using this formula…
[SantaSpeedKm/s] = 288 * [PopulationRatio]
Share your Santa speeds on Facebook and Twitter and see how they compare! And for bonus points and super-nerd cred, look up the surface area of the world you're currently playing on and the length of its day, and use those in your calculations. Pro-tip: a day on Venus is longer than a year on Venus, so Santa has all the time in the world to glide through those sulfuric acid clouds.
Anyway, I'm just saying, math is cool. And if you happen to still be in school, you have my permission to tell your math teacher that the creator of the greatest app ever says that if they're not teaching class by calculating the trajectory of reindeer across semi-spherical objects in space, they're doing their job wrong.
In the meantime, I'll leave you with a quote from the once-great Billy Mack: Christmas is the time to be with the people you love. Well corny as it may sound, I love all you folks. It's no exaggeration to say that this community has changed my life, and I wake up grateful every day to be able to do this, and talk to you, for a living.
So whether you celebrate Christmas in your own home or not, just know that you're getting good wishes and holiday cheer sent to you direct from Edgeworks Entertainment. I know some people get worked up about the whole "Happy Holidays" vs "Merry Christmas" thing, but to me a big part of the joy of this season is that almost every culture in the world has sensed the beauty of this season, and everyone has something to celebrate. So to everyone out there playing TerraGenesis all across the Earth and beyond: Season's Greetings, Happy Hanukkah, Merry Midwinter, Glückliches Yule, Happy Kwanzaa, Feliz Posadas, Happy New Year, Jolly Boxing Day, Joyous Soyal, and a very, very Merry Christmas to you all.

That's it for this bonus episode of The Science of TerraGenesis.

Be sure to subscribe for more episodes, and in the meantime you can follow us on Facebook, Twitter, Instagram, Reddit, Discord, YouTube, everywhere really. You can also check us out at EdgeworksEntertainment.com and TerraGenesisGame.com, and don't forget to leave a review for the podcast, it really does help!
And if you haven't played it yet, be sure to check out TerraGenesis, it's a free download on iOS or Android, and coming soon to Windows.
Oh, and one more thing: take a moment to check in on your worlds on Christmas Day. You might find a few unusual things waiting for you…
"Earth is the cradle of humanity…but one cannot live in a cradle forever."

Check out the FULL trailer for the hit mobile terraforming simulator TerraGenesis: https://t.co/s1CzPrPoS2

Leave the cradle today:

► iOS: https://t.co/efbXgW7UUZ

► Android: https://t.co/NbzvFDhXDZ pic.twitter.com/il9HrIPloN

— TerraGenesis (@SettleTheStars) July 30, 2019