A closer look at the nature loving, environmentalist faction of TerraGenesis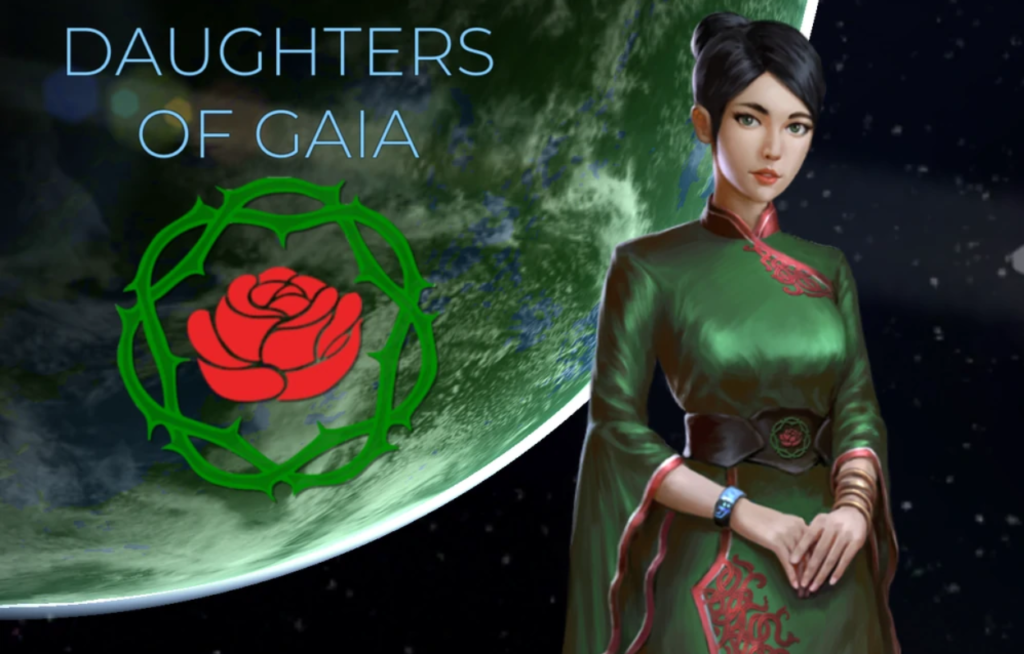 They may look like free-spirited and harmless nature lovers, but be warned: the Daughters of Gaia are known to break expectations. They are callous in the pursuit of their objectives, and this combination has made them a powerful force in interplanetary politics. The Daughters of Gaia are certainly an interesting faction to explore further.
Beliefs & Focus
The Daughters of Gaia have a simple focus: to transform each world into its own paradise. Viewing entropy as sin, this faction believes that life is the greatest gift in the universe, and that we should spread this gift to every planet. They are one of the earliest groups that staunchly advocated off-world terraforming and habitability, believing that the Earth's beauty should be prioritised over all other objectives. This dictates the way that they live, build, and rule. Beauty and nature-based artistry is consistent throughout everything the Daughters of Gaia do.
They are not all they seem
On the surface, they are a calm and peaceful people, with a graceful and well-mannered demeanor that represents their spirituality with the universe and their appreciation of nature. However, while seemingly harmless, the Daughters of Gaia can be surprisingly ruthless in the pursuit of their goals. Their Darwinian beliefs mean that they take a "survival of the fittest" approach, believing life as they know it is the strongest and most deserving of them all.
Nature inspired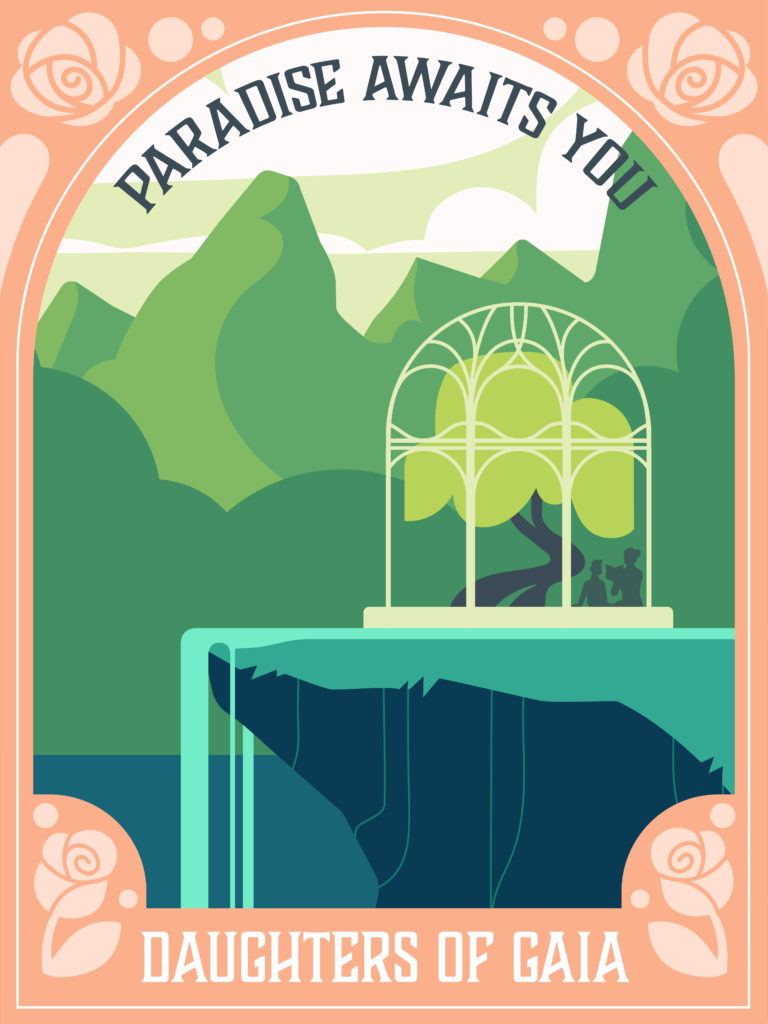 The Daughters of Gaia have a fluid aesthetic design, made up of clean and sleek clothing with plenty of bright and colourful detail. Their organic sentiment is reflected in their architecture, which combines indoor comfort with the beauty of the outdoor elements. Naturally, their home is a scenic and tranquil place and must be seen to be believed. The Daughters of Gaia are elegant, dressed in ornate, ceremonial clothing pulling from Earth cultures.
Strength in numbers
This faction has a close family bond, meaning they will stand by each other and defend themselves in numbers. They have a matriarchal social structure with female leaders, which has led outsiders to consider them radical feminists who denounce men. Those same critics may also argue that the Daughters of Gaia are spoilt, tree loving hippies who are born into privileged conditions that allow them to pass judgement on lower classes. Of course, those critics are often silent when they see a Gaian spacecraft approaching – a terror among the stars, striking fear in the hearts of those who know what's about to come.
Masters of their craft
The Daughters of Gaia are masters of biochemical engineering, pushing life's limits to its boundaries and beyond. By modifying the ecological conditions of other planets in their pursuit of paradise habitability, they create veritable Gardens of Eden to suit their own needs. Their experiments don't always stop at planetary changes, however, as prominent Gaian scientists have been known to engineer and alter other lifeforms – humans included. After all, it is survival of the fittest – who's to say humankind couldn't be even fitter?
A powerful force
If it wasn't clear already, The Daughters of Gaia are the most nature-focused faction in TerraGenesis. While they are not as industrious as the Sons of Hesphaestus, as populous as the UNSA, or as wealthy as the Horizon Corporation, their skills, demanded conformity among its membership, and their intense beliefs make them a force to be reckoned with!